Products
Digital Tension Meter for paragliding and hanggliding winches – discontinued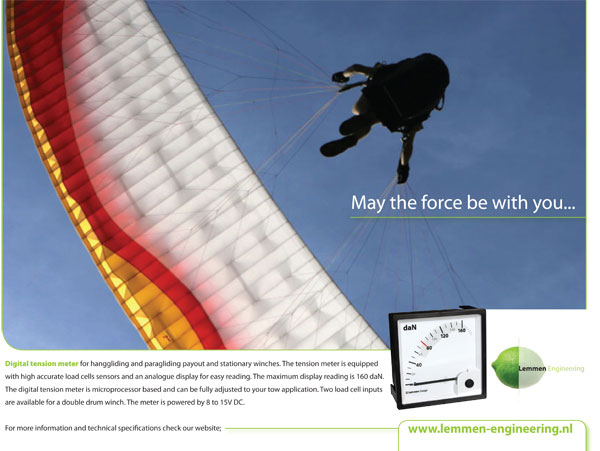 There are many paragliding and hanggliding winches in operation all over the world. We have noticed that a lot of these winches suffer from bad tow tension measurement equipment. In particular paragliding winches need an accurate tension meter to prevent deep stalls during the starting phase of towing. Further, a good tension meter is able to detect thermals during towing and the winch operator can advise the pilot to release and benefit from these thermals.
Our experience in building and operating paragliding winches has resulted in the design of an accurate tow tension meter.
The digital tension meter is equipped with accurate load cell sensors and an analogue display for quick and easy reading. The maximum display reading is 160 daN (160 kg). Other load cell sensor and display scales, i.e. for glider winches, are available on request. The digital tension meter is microprocessor based and can be fully adjusted to your tow application. Two load cell inputs are available for a double drum winch. The digital tension meter can also be equipped with one load cell for single drum applications, which is common for payout winches. The digital tension meter is powered by 8 to 15V DC.
The digital tension meter is also applicable for glider winches.
The digital tension meter consists of three main parts: the analogue panel display, the DTM box (electronics) and one or two load cells.
For more technical information about our Digital Tension Meter please read the DTM user manual: DTM User Manual
A mounting and installation report is available here: DTM Mounting Report
Digital Tension Meter applications

DTM application for paraglider line break tests
We have a PC software application for the DTM available that can be used for force and tension measurement in general and for paraglider line stress or break tests. The software reads the force from the DTM via the PC's USB interface. The force applied to a paraglider line is displayed, logged and saved in a graph and the peak force (i.e. line break point) is displayed. The logged data can saved to an ASCII or XML file.